Research
Open Access
Open Peer Review
This article has Open Peer Review reports available.
Searching for qualitative research for inclusion in systematic reviews: a structured methodological review
Systematic Reviews
2016
5:74
Received: 14 September 2015
Accepted: 21 April 2016
Published: 4 May 2016
Abstract
Background
Qualitative systematic reviews or qualitative evidence syntheses (QES) are increasingly recognised as a way to enhance the value of systematic reviews (SRs) of clinical trials. They can explain the mechanisms by which interventions, evaluated within trials, might achieve their effect. They can investigate differences in effects between different population groups. They can identify which outcomes are most important to patients, carers, health professionals and other stakeholders. QES can explore the impact of acceptance, feasibility, meaningfulness and implementation-related factors within a real world setting and thus contribute to the design and further refinement of future interventions. To produce valid, reliable and meaningful QES requires systematic identification of relevant qualitative evidence. Although the methodologies of QES, including methods for information retrieval, are well-documented, little empirical evidence exists to inform their conduct and reporting.
Methods
This structured methodological overview examines papers on searching for qualitative research identified from the Cochrane Qualitative and Implementation Methods Group Methodology Register and from citation searches of 15 key papers.
Results
A single reviewer reviewed 1299 references. Papers reporting methodological guidance, use of innovative methodologies or empirical studies of retrieval methods were categorised under eight topical headings: overviews and methodological guidance, sampling, sources, structured questions, search procedures, search strategies and filters, supplementary strategies and standards.
Conclusions
This structured overview presents a contemporaneous view of information retrieval for qualitative research and identifies a future research agenda. This review concludes that poor empirical evidence underpins current information practice in information retrieval of qualitative research. A trend towards improved transparency of search methods and further evaluation of key search procedures offers the prospect of rapid development of search methods.
Keywords
Qualitative researchSystematic reviewsLiterature searching
Background
The contribution of qualitative evidence to health care decision-making is increasingly acknowledged. Qualitative evidence syntheses (QES) now occupy an important role within the activities of international collaborations, such as the Cochrane Collaboration [1], as part of the guidance production processes of national organisations such as the UK National Institute for Health and Clinical Excellence (NICE) and the US Agency for Healthcare Research and Quality (AHRQ) and as a genuine academic endeavour funded by private, public and charitable funding bodies. Increasingly, QES are viewed as a putative mechanism by which the systematic review "catechism" can be advanced from "what works" to "what happens" [2]. Milestones for the development of QES methodology are well-documented [3]. They include the publication of the first methodology for qualitative synthesis (meta-ethnography) in 1988 [4], the formal recognition of the Cochrane Collaboration's Qualitative Methods Group in 2006 and publication of the first Cochrane QES in 2013 [5].
Data compiled for the annual Evidence Synthesis of Qualitative Research in Europe (ESQUIRE) workshop in 2015 suggests that between 40 and 70 qualitative syntheses are published each month across a wide range of disciplines with 2–5 methodological references on qualitative synthesis appearing within the same period.
The most cited QES methodological guidance is Chapter 20 of the Cochrane Handbook, authored by co-convenors of the Cochrane Qualitative Methods Group [6]. This was the first document to recognise the potentially important role of qualitative research within the Collaboration. Space constraints limited the searching section to three paragraphs which covered the usefulness of filters, the importance of supplementary searching strategies, an early attempt to highlight the importance of sampling decisions and a cursory sentence on reporting standards. Following receipt of a methodology grant and subsequent methodological summit in Adelaide, the Cochrane Qualitative Methods Group produced supplementary guidance hosted on the Group's Website. Chapter 3 of this supplementary guidance covered searching for studies [7] mirroring the trial-focused chapter on searching from the Cochrane Handbook. Then, Cochrane policies confined qualitative research to a supporting role within collaboration activities [3] which resulted in potentially useful guidance on supplementary approaches to searching being relegated to an Appendix.
At about this time, the Centre for Reviews and Dissemination was revising its guidance on conducting systematic reviews. For the first time, a chapter on qualitative systematic reviews was included in this seminal guidance. Chapter 6 entitled "Incorporating qualitative evidence in or alongside effectiveness reviews" consisted of 20 pages including just over two pages related to identification of the evidence [8]. Topics covered included a characterisation of search procedures, single paragraphs on sampling approaches and supplementary strategies, respectively, a lengthy discussion of search strategies and filters and a single sentence on reporting standards.
Despite considerable advances in QES methodology, many gaps remain to be addressed. While this is true for all stages of the review process, the place of searching at the beginning of the process renders it a particular priority. Our knowledge of searching for qualitative research is founded primarily on custom and practice. Very few empirical studies exist to inform information retrieval practice. Consequently, we have an imperfect knowledge of the most effective retrieval terms, partial understanding of the respective yield of different sources and, in particular, an incomplete insight of the appropriateness of different sampling methods as they relate to different types of QES.
This methodological review was compiled to support the work of the author and other co-convenors of the Cochrane Qualitative and Implementation Methods Group in writing updated guidance on literature searching for qualitative evidence. In conjunction with a pending major revision of the Group's chapter in the Cochrane Handbook, the co-convenors of the Group have developed a publishing plan for supplementary guidance, including a chapter on searching. This methodological overview does not duplicate the forthcoming guidance. It documents the evidence base that will inform the guidance, much as a systematic review might inform subsequent clinical guidelines. The aim is to produce a summary of the evidence base for searching for QES that is not constrained by current interpretations of the role of QES within the Cochrane Collaboration. Such a methodological summary may conceivably inform handbooks and other guidance as produced by health technology assessment (HTA) agencies, guideline producers and other review organisations.
Specifically, the author sought to address three methodological questions:
What is the current state of knowledge in relation to this aspect of searching practice?

How robust is the evidence base for this aspect of searching practice?

What are the main gaps and future research priorities for this aspect of searching practice?
Methods
Systematic approaches to searching may be typified by seven characteristics ("the 7S structure"). As highlighted in a recent paper, systematic retrieval requires a transparent method for producing a structured review question, the availability of search strategies (or filters) to assist in sifting relevant studies from those likely to be irrelevant, and replicable and evidence-based search procedures that can be enhanced and adapted to each particular review [9]. An additional challenge is associated with choosing which sources to search and learning the idiosyncrasies of each source [10]. These requirements extend to three further characteristics—standards for reporting search strategies, an informed strategy for sampling studies and judicious use of supplementary search methods. These seven characteristics were used to structure findings from the review, following a summary of existing overviews and guidance for information retrieval in QES.
Typically, a methodological review requires the conduct of sensitive searches across multiple databases. However, for the last 7 years, the author has maintained the study register of the Cochrane Qualitative and Implementation Methods Group. This is populated on a monthly basis by sensitive keyword searches of PubMed MEDLINE (Appendix) and the ISI Web of Science and by citation searches for key methodological books and journals on ISI Web of Science and Google Scholar. Reference lists from new articles and book chapters are checked regularly for further additions to the register. The register is the single most comprehensive database source of (i) methodological references on all aspects of QES and (ii) published examples of QES. A sensitive search was therefore conducted of the study register on Reference Manager 12 using such terms as "search*," "retriev*" and "database*." Six hundred fifty-four references were retrieved, and these were reviewed for relevance by the author. A high proportion of references were anticipated to be "false hits" as they reported the search methods used for specific QES. However, this sensitive search strategy increased confidence that all relevant methodological sources would be retrieved.
Previous guidance on searching for qualitative evidence was used to compile a list of 15 key citation pearls on various aspects of retrieval. A citation pearl is an authoritative article, typically identified by experts, of particular relevance to the topic of inquiry that can be used to search for relevant and authoritative materials sharing common characteristics with the original pearl [
11
]. Searches on Google Scholar using each title in quotation marks were used to identify all references citing these pearls (i.e. as indicated with "Cited By"). Including duplicates, 1063 references were identified from these 15 citation pearls (Table
1
). Therefore, 1717 references were identified through the two search approaches. Once duplicates were removed, 1299 records were available.
Table 1
Fifteen citation pearls in literature searching for qualitative research
| Reference | No. of citations | Category |
| --- | --- | --- |
| Barroso et al. (2003) [10] | 152 | Overviews |
| Booth (2006) [12] | 92 | Standards |
| Cooke et al. (2012) [13] | 46 | Question formulation |
| Evans (2002) [14] | 116 | Overviews |
| Finfgeld‐Connett and Johnson (2013) [15] | 21 | Overviews |
| Flemming and Briggs (2007) [16] | 90 | Filters |
| Grant (2004) [17] | 35 | Filters |
| Grayson and Gomersall (2003) [18] | 59 | Sources |
| McKibbon et al. (2006) [19] | 45 | Filters |
| Papaioannou et al. (2010) [20] | 54 | Supplementary strategies |
| Shaw et al. (2004) [21] | 146 | Filters |
| Subirana et al. (2005) [22] | 31 | Sources |
| Walters et al. (2006) [23] | 31 | Filters |
| Wilczynski et al. (2007) [24] | 48 | Filters |
| Wong et al. (2004) [25] | 97 | Filters |
| Total | 1063 | |
Relevant references were coded under one or more of eight headings used to structure this review, namely Overviews and Methodological Guidance, Sampling, Sources, Structured Questions, Search Procedures, Search Strategies and Filters, Supplementary Strategies and Standards. Searching, sifting and coding were conducted in July/August 2015 [10, 12–25].
The author examined the full-texts of all items identified for inclusion from the searches, most having been previously assembled to support the methodological work of the Cochrane Qualitative and Implementation Methods Group. Two types of evidence were used in compiling this structured methodological review. Empirical studies were examined to assess their practical implications for those conducting QES. Methodological commentaries, overviews and guidance handbooks were inspected in order to construct a snapshot of current practice.
Data to answer the three review questions was extracted into a single spreadsheet using Google Forms. The 7S framework was used as a structure for data extraction. Narrative text extracts from each article were cut and pasted into the data extraction framework. In addition, papers were categorised for study design and empirical studies examined for the quality of their design. A narrative commentary was produced to summarise both the included references and findings from the extracted data.
Results
A total of 113 items were identified for inclusion in the methodological review [10, 12–120]. Of these, 46 were characterised as overviews of QES methodology, 13 represented formal guidance on conduct or reporting with a further 3 being narrative reviews specifically of the QES search process. One paper was a short general summary and could thus not be classified as an overview in the literal sense. Seven papers used a hybrid design that combined an overview with one (n = 4) or multiple (n = 2) case studies and, in one case, with both a survey and a case study. The remaining 43 papers employed a formal study design and are described more fully below.
With regard to the seven components of the 7S framework, the papers were distributed as follows: Sampling (
n
 = 47), Sources (
n
 = 22), Structured Questions (
n
 = 17), Search procedures (
n
 = 6), Search Strategies and Filters (
n
 = 16), Supplementary Strategies (
n
 = 24), and Standards (
n
 = 17). The aggregate number of papers exceeded 131 items indicating that some papers, particularly overviews, contributed to more than one of the 7S components (Fig.
1
—flow chart). Although conclusions based simply on "vote-counting" should be resisted, it is noteworthy that issues of sampling are frequently discussed, in marked contrast to a default of comprehensive sampling typically used when conducting quantitative systematic reviews. In comparison with quantitative systematic reviews, there was also greater emphasis on the use of a variety of sources and of supplementary search methods.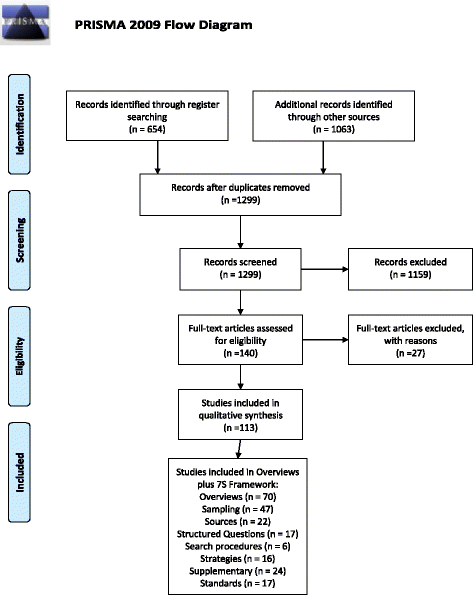 With regard to the quality of the included papers, it was not possible to perform quality assessment for the body of included papers because (i) many papers were narrative offerings (n = 68) and (ii) even where a formal study design (n = 43) was present, the heterogeneity of these designs and the lack of a common appraisal instrument made comparability across studies prohibitively challenging. Observations on the robustness of the evidence base for each aspect of searching practice were therefore constrained to types of supporting designs. Specific observations are included within each of the following component sections. However, overall, the studies can be characterised as follows: case study (25); comparative study (7); literature surveys (5); multiple case studies (1); surveys (1); and validation study (4). Unsurprisingly, case studies of individual QES were the most common investigative design with a single paper reporting multiple case studies within the same paper. Five literature surveys identified a set of eligible studies and then examined reporting of methods within the study set. One study surveyed those who conduct literature searches. In terms of more robust designs, seven studies used a comparative design and four studies investigating the use of search filters attempted validation against a gold standard.
Many authors document the perceived complexity of searching for qualitative research, either in comparison with quantitative research (particularly randomised controlled trials) [
8
,
14
,
36
,
39
] or in its own right [
10
,
25
]. As a consequence, searching for, and identifying, appropriate qualitative research is characterised as "frustrating and difficult" [
22
]. Table
2
summarises the most frequently documented challenges.
Table 2
Challenges when searching for qualitative research studies
Limitations
Variety of qualitative methodologies (e.g. ethnography, phenomenology and grounded theory) [44]
Non-standardised terminology for qualitative research [44]
Use of descriptive non-explicit titles [8, 14, 30, 34, 37, 40, 45]
Absence of clear descriptions of study samples in the published abstracts [47]
Inadequacy of indexing terminology for qualitative methodology [8, 14, 21, 26, 30, 33, 34, 37, 40, 44]
Inappropriate assignment of index terms by indexers [8, 21, 46]
Inter-database differences in indexing terminology [8, 14, 30, 31, 37]
Potential mismatch between focus of paper and focus of the review [34]
Non-existence of registers of qualitative research [8, 26, 34]
Qualitative research located outside medical databases [43, 45]
Absence of pointers to qualitative research from registers of RCTs [8]
Difficulty in identifying qualitative reports associated with RCTs [6]
Difficulty in retrieving reports of mixed-methods studies [6]
Social science employs more diverse publication media than medical literature [18, 37]
Strategies for qualitative research can be over inclusive, time-consuming and expensive [21, 46]
While some challenges are being addressed, for example with the addition of the Medical Subject Heading (MeSH) term to MEDLINE in "Qualitative Research" in 2003 [34] and with the trend towards more informative titles and abstracts, progress appears slower than in the more researched domain of quantitative research. Established methods for identifying quantitative research do not necessarily translate into effective strategies for qualitative research [34]. Dixon-Woods et al. [30] reported that 23 % of records screened for a qualitative review of support for breastfeeding did not include an abstract. As a consequence, a higher proportion of full-text articles may need to be screened to make decisions about inclusion [45].
Discussion
While there appears to be considerable consensus in relation to the methodology of searching for qualitative research, the findings from this methodological overview should be treated with caution. A limited number of authors and teams are particularly influential within this narrow, specialist area of information retrieval. Furthermore, much accepted opinion can be attributed to the fact that different commentators are drawing upon and citing the same limited set of references in support of their opinions. The methodological guidance is particularly derivative from a few key influential works. Furthermore, retrospective analyses limit the extent to which investigators can take account of search strategy design, database interface and accuracy of database indexing [
94
]. Future analyses should collect data on search strategy design, database interface and indexing prospectively to allow review teams to consider the impact of these factors on overall search performance. Finally, the review reveals a paucity of empirical data. Much guidance is based on personal or organisational experience, limited case studies or overworked, and occasionally misapplied, empirical studies, for example the implication that the specific emphasis of search approaches appropriate to a meta-narrative on diffusion of innovations is generically transferable to all QES topics [
62
]. Table
7
tentatively suggests some starting principles, with reference to the 7S sections of this review, to inform guidance irrespective of the review producer. On a positive note, we can detect increasing transparency in search methods. Hannes et al. [
3
] compared published data from 2005 to 2008 [
39
] with data from 1988 to 2004 [
84
]. Considerably, more QES papers described the databases they had searched, more reported supplementary search strategies and more chose to specify their search terms.
Table 7
Some starting principles for qualitative searching
| Component | Starting principles |
| --- | --- |
| Sampling | Where approaches other than comprehensive sampling are used, reviewers must justify their sampling strategy, match it to their synthesis method and describe fully how it was implemented. |
| Sources | For health topics, MEDLINE and CINAHL are considered a minimum, augmented by topic-specific and setting-specific sources. Reviewers should devise specific strategies to find specific types of grey literature, where included. |
| Structured questions | In the absence of empirical data on effectiveness of structured approaches, the question structure should be selected to match the purpose and focus on the review. When accompanying a review of clinical trials, the two review questions may or may not be co-terminous. |
| Search procedures | Given the comparatively low yield of qualitative topic-based searches, reviewers should privilege specificity (retrieval of relevant items). Retrieved relevant items can then be used as a starting point for developing supplementary search techniques. Reviewers should compensate for reported deficiencies in indexing by using a broad range of supplementary strategies. |
| Search strategies and filters | Filters should be commensurate with the intended purpose of the review. When extensive supplementary strategies are being employed to offer improved sensitivity, the topic-based searches may use a simple filter (using terms such as qualitative OR findings OR interview). |
| Supplementary strategies | Reference checking must be a default for every review. For diffuse topics, or those with significant variation in terminology, hand searching, citation searching or contact with authors/experts may be relatively productive. Where context or theory is particularly important, the CLUSTER method [110] may be appropriate. Trial identifiers (ISRCTN or trial name) may be useful for sibling or kinship studies for trials. |
| Standards | In the absence of a consensual standard for reporting, ENTREQ [88], supplemented by PRISMA [128] and STARLITE [12] where necessary, should be used when reporting a search. |
Towards a research agenda
McGinn et al. [91] recommend that review teams partner with librarians or information specialists to share the outcomes of case studies that showcase thorough searches and examine their yield. There is a particular need to report data, either within reviews themselves or in subsequent retrospective methodological studies, on where included studies could have been found as well as how they actually were found. The caveat is that reviewers report considerable differences in yields from different sources for different topics (e.g. even for two meta-ethnography case studies by the same team [37]). Consequently, review teams cannot predict whether topics are more likely to be similar or different, with what has worked previously not being a guarantor of subsequent success in a different topic [37]. Indeed, the degree to which past performance is a predictor of future performance is currently unknown [94].
A review of the methodological guidance reveals a need to balance development of generic guidance with development of guidance specific to particular methods of synthesis. The development of specific guidance, where methods of sampling, searching and synthesis are all aligned, is a potential route for reconciling the comprehensive versus purposive sampling debate. Important developments for QES reporting standards are the National Institute for Health Research funded Realist And Meta-narrative Evidence Syntheses: Evolving Standards (RAMESES) project for meta-narrative [118] and realist reviews [119] and the Meta-Ethnography Reporting Guideline (eMERGe) project for meta-ethnographies [120].
Table
8
compiles a research agenda with reference to the "7S" framework of this review. This review possesses several limitations. For inclusion, references must include terms specifically related to searching or retrieval in their titles or abstracts, or cite a limited number of key texts, or be referred to from previously identified items. It is increasingly prohibitive to examine the full-text of all papers reporting QES. Individual reviews may explore innovative methods of information retrieval but not showcase their methodology. However, it is unlikely that this review has completely overlooked important issues given the extent of included articles, studies and guidance. While patterns of co-citation or theoretical saturation are largely unexplored within a methodological context, the reviewer reached a point where no additional items were being identified. Some key items were purposely excluded because they did not differentiate between quantitative and qualitative searching approaches. However, these might be useful, particularly where a mixed methods review is being conducted [
134
–
138
].
Table 8
Towards a research agenda
| Component | Research priorities |
| --- | --- |
| Sampling | Comparison of yields from exhaustive versus comprehensive sampling [32]. Informed matching of sampling to search methods to synthesis approaches |
| Sources | Audits of relative yield [77] |
| Structured questions | Exploration of techniques for automated document clustering to provide initial overview of available evidence across a broad range of topic areas [140, 141] |
| Search procedures | More empirical testing of different approaches to searching [142, 143]. Exploration of iterative and theory-based approaches [41] |
| Search strategies and filters | Ongoing rigorous development of methodological filters comparing parsimonious and exhaustive lists. Filters for different qualitative study types [34], process evaluations and mixed methods studies [21, 44]. Search strategies by discipline (e.g. social work), by application (e.g. patient satisfaction) or for theories |
| Supplementary strategies | Audits and evaluations of relative yield [16] |
| Standards | Development of consensual reporting standards for QES iterative search approaches; audits of reporting standards generally and for specific methods; standards to handle [39, 84] |
With regard to the quality of the identified papers, this review detected a high proportion of overviews, occasionally based on or supported by one or more case studies. Indeed, case studies were the most prevalent method used to advance observations on search methodology, with the corresponding weakness that lessons from individual case studies may not be transferable. The shortage of comparative designs or validation studies is likely to be indicative of a corresponding dearth of funded projects exploring methodological aspects of searching for qualitative studies. Similarly, outside the case study evidence base, wider insights derive either from opportunistic samples or from analysing convenience samples of published QES. Notwithstanding the fact that many guidance documents exist in this domain, these too are limited by the weak quality of the evidence used to underpin published recommendations.
Conclusions
QES is an exciting and rapidly developing methodological field, evidenced by a proliferation of methods and of published examples. Decisions regarding search strategy and screening hinge upon such considerations as the review aims, resources, availability of studies and epistemological viewpoint [46]. However, the popularity of QES should not mask the poor empirical base that exists for many decisions within the searching process. Methodological overviews are largely populated by common empirical studies which are frequently referenced as authoritative. As with quantitative reviews, there is little empirical data to support the merits of question formulation [101]. Yields from particular databases appear to be largely review specific. Empirical research is required to examine suggestions in the literature that thorough searching of a small number of databases [16, 22, 90], supplemented by other searching methods, may be more efficient than searching across a wider range of databases. We are beginning to learn the merits of different sampling approaches and their alignment to named qualitative synthesis methodologies [38]. Limited but important evidence exists to suggest that a few qualitative methodology keywords may perform equally well to more extensive filter terms [8, 16, 17, 44]. Strategies for retrieving books and theses need to be specified with specific agendas remaining to be advanced in terms of searching for process evaluations or mixed-methods studies. Finally, progress has been made in reporting QES, but these standards have neither been validated in the appropriate community nor extended to cover a broad range of QES methodologies [88]. The QES search methodology research agenda remains ripe for harvesting.
Declarations
Open AccessThis article is distributed under the terms of the Creative Commons Attribution 4.0 International License (http://creativecommons.org/licenses/by/4.0/), which permits unrestricted use, distribution, and reproduction in any medium, provided you give appropriate credit to the original author(s) and the source, provide a link to the Creative Commons license, and indicate if changes were made. The Creative Commons Public Domain Dedication waiver (http://creativecommons.org/publicdomain/zero/1.0/) applies to the data made available in this article, unless otherwise stated.
Authors' Affiliations
(1)
Reader in Evidence Based Information Practice, School of Health and Related Research (ScHARR), University of Sheffield, Sheffield, UK