Research
Open Access
Open Peer Review
This article has Open Peer Review reports available.
A systematic review of interventions to increase awareness of mental health and well-being in athletes, coaches and officials
Systematic Reviews
2017
6:177
Received: 22 February 2017
Accepted: 16 August 2017
Published: 31 August 2017
Abstract
Background
The aim of the current study was to conduct a systematic review determining the effect of sport-specific mental health awareness programs to improve mental health knowledge and help-seeking among sports coaches, athletes and officials. The second aim was to review the study quality and to report on the validity of measures that were used to determine the effectiveness of programs.
Methods
Sport-specific mental health awareness programs adopting an experimental or quasi-experimental design were included for synthesis. Six electronic databases were searched: PsycINFO, MEDLINE (OVID interface), Scopus, Cochrane, CINAHL and SPORTDiscus. Each database was searched from its year of inception to October 2016. Risk of bias was assessed using the Cochrane and QATSQ tools.
Results
Ten studies were included from the 1216 studies retrieved: four comprising coaches or service providers, one with officials, four with athletes, and one involved a combination of coaches and athletes. A range of outcomes was used to assess indices of mental health awareness and well-being. Mental health referral efficacy was improved in six studies, while three reported an increase in knowledge about mental health disorders. However, seven studies did not report effect sizes for their outcomes, limiting clinically meaningful interpretations. Furthermore, there was substantial heterogeneity and limited validity in the outcome measures of mental health knowledge and referral efficacy. Seven studies demonstrated a high risk of bias.
Conclusions
Further, well-designed controlled intervention studies are required. Researchers, practitioners and policy makers should adhere to available methodological guidance and apply the psychological theory of behaviour change when developing and evaluating complex interventions.
Keywords
Mental health literacySportResilienceAthletesInterventionsHealth promotion
Background
Mental health is defined as 'a state of well-being in which every individual realizes his or her own potential, can cope with the normal stresses of life, can work productively and fruitfully, and is able to make a contribution to her or his community' [1]. Mental health problems are one of the main causes of disease burden, with major depression being the second leading cause of disability and a contributor to suicide and heart disease worldwide [2]. Globally, an estimated 350 million people are affected by depression, 60 million, by bipolar affective disorder, and 21 million, by schizophrenia/other psychoses [3]. In the USA, 20% of adults experience a mental health problem annually (30% among 18–25-year-olds) [4]. Similar figures have been reported in Europe and Australia [1]. There is relatively scant research on the mental health of athletes [5], and the prevalence of diagnosable psychiatric disorders in athletes is unclear [5–8]. However, elite athletes are just as likely as non-athletes to experience anxiety [5] or depression [9, 10].
Sports participation, particularly through physical activity, has many benefits to health and well-being [11]. Recent evidence suggests that competitive sport may contribute to poor mental health [12] and that athletes have specific risk factors for poor mental health [13]. These pressures described by Evans, Weinberg and Jackson [14] include; extended times being separated from family [15], negative emotional consequences of injury [16], increased risk of substance and alcohol abuse [17], worries that media outlets, or large populations, will be critical of them if they fail [12] and relationship problems [13]. Common life concerns for athletes include interpersonal conflict, employment qualms and financial difficulties. These pressures combined with how athletes interpret their sports performance failures can be problematic. For example, attribution styles (i.e., explanations for success or failure) have been linked to levels of emotional well-being, which in turn can contribute in part to depression [8].
Traditionally, athletes have been poorly supported to manage their mental health. Instead, sports culture celebrates mental toughness and disapproval of weakness disclosure [12]. Consequently, emotional and psychiatric problems remain hidden [18], a stigma that prevents athletes from seeking timely and appropriate help [12]. Furthermore, coaches also experience specific stressors and in some cases, may require better emotional support [19, 20] within a culture of performance and competition. Sports officials (referees, umpires, judges) also experience stress and burnout [21, 22]. Rainey [23] described four reasons for stress and burnout: fear of physical harm, fear of failure, time pressure and interpersonal conflict, with few mental health interventions on sports officials available and research at an exploratory stage [24].
Mental health literacy is the knowledge and beliefs about mental health disorders which aid recognition, management or prevention [25]. Most mental health information is perceived by the public as confusing [26] which presents a problem in raising awareness of the importance of caring for mental health. Despite evidence-based interventions being universally available to enhance mental health [27], few programs have been adapted for coaches, athletes and sport club settings. Coaches, who manage stress well, may be better equipped to prevent or deal with athletes' stress more effectively [28]. Thus, training coaches in mental health awareness and mental health literacy may then improve the emotional climate of the performance environment enhancing interactions and positive relationships between an athlete and a coach [29].
Few evidence-based mental health awareness programs are designed for sports-specific populations despite the demand for context-specific programs [30]. However, many athletes, despite the access to relevant information and advice, do not seek help, as the disadvantages of doing so are perceived to outweigh the benefits [12]. The disadvantages included the loss of playing time, being perceived as mentally weak or lacking commitment [31]. Moreover, the fear of disclosure may damage their athletic career plans. Additional barriers for young people seeking help are poor mental health literacy and stigma, while the main facilitators of positive help-seeking are; having a current positive relationship with a health professional or doctor, an emotional intelligence and/or a positive social support [9].
It has been reported that gender is often a determinant of help-seeking [32], wherein male's adoption of masculine norms such as strength and stoicism negatively impacts upon their willingness to seek help and reinforces maladaptive coping styles [33]. Furthermore, recent evidence suggests that depressive symptoms (e.g. mood disorders, substance abuse) are moderated by gender [34]. In support of this perspective, a study of female athletes' exhibited 1.844 times the risk for developing clinically relevant symptoms compared to male athletes [35].
Mental health awareness programs offer the opportunity to enhance help-seeking behaviours and improve well-being among athletes through counselling or psychological skills training (see [36] for an example) which disseminate knowledge related to mental health conditions and treatment [37]. A recent systematic review [5] on the incidence and nature of mental health and well-being of elite athletes concluded that few studies were well reported (25%) and lacked methodological rigour and there was a paucity of interventions. However, the review focused on elite-athletes only, and potential interventions for non-elite athletes in club settings for coaches and referees remains to be reviewed. Given the recent interest in the topic evidenced in part by the recent special issue in Frontiers in Psychology consisting of ten articles called "Mental health challenges in elite sport: balancing risk with reward", a review of available interventions is required. Also, determining what interventions work is timely as in the USA college athletic departments, the USA Olympic Committee, USA Olympic Governing Bodies and professional sports organisations now provide athletes, coaches and support staff with access to mental health professionals. The National Association of Athletic Trainers has published a consensus statement that addresses the growing concern for mental health issues in athletes and provides recommendations for development in this area. The National Collegiate Athletic Association [38] published Mind, Body and Sport identifying the need for college athletic departments to address this growing concern and provide guidelines for implementing a dedicated response to assist student athletes [12].
Similarly, in March 2015, the UK government presented a 'mental health in sport' initiative. Several sports associations, including the Rugby Football Union, UK Athletics, British Swimming, the England and Wales Cricket Board and the Football Association, signed a contract pledging to support the elimination of stigma, narrow-mindedness and prejudice surrounding mental health. This was a stride forward for the UK concerning the de-stigmatisation of mental health and an encouraging act toward facilitating help-seeking. Furthermore, the Sport and Recreation Alliance in the UK launched the Mental Health Charter for Sport and Recreation to take positive steps to address and encourage people to be open about mental health issues. Within Northern Ireland, Sport Northern Ireland (SNI) has reviewed mental health awareness programs nationally in the development of a new strategy for those involved in sport [39]. The European Federation of Sport Psychology is in the process of developing a position statement related to the mental health of elite athletes [7] whilst in Australia, elite athlete Brief Counselling Support programs have been put in place as well as mental health awareness programs for athletes.
The aim of the current study was to conduct the first systematic review determining the effect of sport-specific mental health awareness programs to improve mental health knowledge and help-seeking among coaches, athletes and officials. The second aim was to review the study quality and to report on the validity of measures that were used to determine the effectiveness of programs. A description of intervention programs delivered will be provided and recommendations for those in the process of designing and evaluating mental health programs for athletes, coaches and officials are proposed.
Results
A total of 1216 titles and abstracts were reviewed (242 from PsycINFO; 39 from MEDLINE; 153 from Scopus; 128 from Cochrane; 381 from CINAHL; 273 from SPORTDiscus). One further article was identified from one of the author's knowledge of an article accepted and in press. After removal of duplicates (n = 88), 1129 titles and abstracts remained. Of these, 1023 were identified as irrelevant and were excluded. Ten percent of excluded titles and abstracts were screened by two researchers, and a consensus was reached for their exclusion. A total of 106 articles were identified as relevant and underwent a further detailed screening for full-text printing eligibility; of these, 20 met the criteria for a standardised independent full-text screening by two authors.
From the 20 articles, authors agreed upon ten articles to be excluded because they did not meet the inclusion criteria on at least one level. One article was a review [
58
], others were a cohort study [
59
], diary study [
60
], drug-testing study [
61
], a muscular relaxation program [
62
], a physical injury prevention intervention [
63
], and two others were a description of a mental health charity or included no mental health component. Three articles [
64
–
66
] were based on eating disorders and, as discussed above, were subsequently excluded on the basis of a recent systematic review focusing on this topic [
6
]. Of the remaining ten articles [
29
,
37
,
67
–
74
], there was 100% author agreement for their inclusion for further review synthesis (see Fig.
1
). A further, 12 references were identified by hand-searching the reference lists of the ten included articles. However, none of these articles met the inclusion criteria for the review, they were either chapters in books, conference abstracts, a statement on mental health awareness, a cross-sectional survey or reported qualitative findings.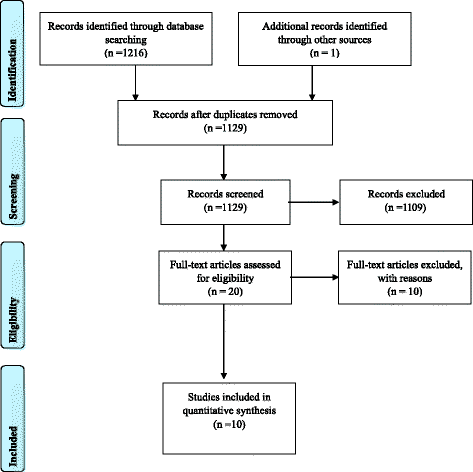 Discussion
This systematic review was a response to an increasing recognition that athletes, coaches and officials in sport settings can be vulnerable to mental health problems [12, 13, 22]. We sought to gather evidence for the potential effectiveness of mental health awareness programs for improving mental health knowledge and help-seeking among coaches, athletes and officials. Studies that met the inclusion criteria were reviewed for quality so that recommendations for those in the process of designing and evaluating studies could be made.
Conclusions
Evidence and theory-based intervention programs designed to increase mental health literacy and support athletes, coaches and officials who are experiencing a mental health problem are required. While some support was found for the programs available, few showed methodological quality and most suffered a high risk of bias. None of the studies followed the standards for reporting trials, referred to in the MRC guidelines or conducted long-term follow-ups (beyond 3 months). Future longitudinal studies are required with larger sample sizes of males and females, wherein randomisation to groups is blinded, and outcomes are measured with validated measurement tools. Program designers should also give due consideration to the integration of behaviour change theory in the development of programs. We conclude that a cautionary approach be taken when determining an effective program and encourage those involved in program design to consider some of the limitations raised in this article.
Abbreviations
MRC:

Medical Research Council
PRISMA:

Preferred Reporting Items for Systematic Reviews and Meta-Analyses
PROSPERO:

International prospective register of systematic reviews
QATSQ:

Quality Assessment Tool for Quantitative Studies
SNI:

Sport Northern Ireland
WHO:

World Health Organisation
Declarations
Acknowledgements
We would like to thank Mary Rose Holman our subject librarian for her guidance when developing the search terms.
Funding
This research was funded by Sport Northern Ireland and the Ulster University's PhD Research Challenge fund. Sport Northern Ireland commissioned the research to provide direction to the Strategy Steering Group for Mental Health and Wellbeing In and Through Sport.
Authors' contributions
GB, SS, TH and GL contributed to the conception and design of the study. GB, SS, TH, PD and GL contributed to drafting and revising the manuscript and approving the final version for submission for publication. All authors read and approved the final manuscript.
Ethics approval and consent to participate
Not applicable.
Consent for publication
Not applicable.
Competing interests
The authors declare that they have no competing interests.
Publisher's Note
Springer Nature remains neutral with regard to jurisdictional claims in published maps and institutional affiliations.
Open AccessThis article is distributed under the terms of the Creative Commons Attribution 4.0 International License (http://creativecommons.org/licenses/by/4.0/), which permits unrestricted use, distribution, and reproduction in any medium, provided you give appropriate credit to the original author(s) and the source, provide a link to the Creative Commons license, and indicate if changes were made. The Creative Commons Public Domain Dedication waiver (http://creativecommons.org/publicdomain/zero/1.0/) applies to the data made available in this article, unless otherwise stated.
Authors' Affiliations
(1)
Sport and Exercise Sciences Research Institute, Ulster University Jordanstown Campus, Newtownabbey, Northern Ireland
(2)
The Bamford Centre for Mental Health and Wellbeing, Ulster University, Magee Campus, Derry, Northern Ireland
(3)
Sport Northern Ireland, House Of Sport, Belfast, Northern Ireland