Methodology
Open Access
Open Peer Review
This article has Open Peer Review reports available.
SWIFT-Review: a text-mining workbench for systematic review
Systematic Reviews
2016
5:87
Received: 25 February 2016
Accepted: 10 May 2016
Published: 23 May 2016
Abstract
Background
There is growing interest in using machine learning approaches to priority rank studies and reduce human burden in screening literature when conducting systematic reviews. In addition, identifying addressable questions during the problem formulation phase of systematic review can be challenging, especially for topics having a large literature base. Here, we assess the performance of the SWIFT-Review priority ranking algorithm for identifying studies relevant to a given research question. We also explore the use of SWIFT-Review during problem formulation to identify, categorize, and visualize research areas that are data rich/data poor within a large literature corpus.
Methods
Twenty case studies, including 15 public data sets, representing a range of complexity and size, were used to assess the priority ranking performance of SWIFT-Review. For each study, seed sets of manually annotated included and excluded titles and abstracts were used for machine training. The remaining references were then ranked for relevance using an algorithm that considers term frequency and latent Dirichlet allocation (LDA) topic modeling. This ranking was evaluated with respect to (1) the number of studies screened in order to identify 95 % of known relevant studies and (2) the "Work Saved over Sampling" (WSS) performance metric. To assess SWIFT-Review for use in problem formulation, PubMed literature search results for 171 chemicals implicated as EDCs were uploaded into SWIFT-Review (264,588 studies) and categorized based on evidence stream and health outcome. Patterns of search results were surveyed and visualized using a variety of interactive graphics.
Results
Compared with the reported performance of other tools using the same datasets, the SWIFT-Review ranking procedure obtained the highest scores on 11 out of 15 of the public datasets. Overall, these results suggest that using machine learning to triage documents for screening has the potential to save, on average, more than 50 % of the screening effort ordinarily required when using un-ordered document lists. In addition, the tagging and annotation capabilities of SWIFT-Review can be useful during the activities of scoping and problem formulation.
Conclusions
Text-mining and machine learning software such as SWIFT-Review can be valuable tools to reduce the human screening burden and assist in problem formulation.
Keywords
SWIFT-ReviewSystematic reviewLiterature prioritizationScoping reportsSoftware
Background
In almost every field of scientific inquiry, the current rate of scientific publication is greatly outpacing scientists' ability to read and assimilate the information. It has been estimated that every year, more than 4000 systematic reviews are conducted and published, each with the goal of summarizing the current state of knowledge relevant to a specific research question [1]. On average, the amount of time required to conduct a single systematic review is at least 6 months to a year [2], and a considerable portion of this time is often spent on formulating the problem and identifying the relevant literature. For this reason, a large number of topics that would benefit from systematic review are waiting in queue and many systematic reviews are out of date by the time they are published.
Various methods taken from the fields of text-mining, machine learning, and information retrieval have the potential to greatly reduce the amount of time it takes to conduct a systematic review and to minimize bias in identifying relevant studies [3, 4]. These methods have much potential to reduce the human burden in screening studies for relevance and to produce "scoping reports" or "scoping studies," a type of knowledge synthesis undertaken to guide the direction of future research priorities or to help with problem formulation when conducting a systematic review [5]. However, to date, few software systems have been deployed that automate these methodologies, and usage of many of the reported methods requires the assistance of a data scientist having a detailed understanding of statistics and/or the skills necessary to program in statistical programming languages such as R, Python, or Matlab [4]. These factors limit the ability of many systematic review teams to take advantage of these tools and restrict efforts to perform the validation against manual methods that will be required to support routine use.
Objective and specific aims
Here, we introduce "SWIFT-Review" (SWIFT is an acronym for "Sciome Workbench for Interactive computer-Facilitated Text-mining"), a freely available, interactive workbench that provides numerous tools to assist with problem formulation and literature prioritization. SWIFT-Review can be used to search, categorize, and visualize patterns in literature search results. The software utilizes recently developed statistical modeling and machine learning methods that allow users to identify over-represented topics within the literature corpus and to rank-order titles and abstracts for manual screening.
Specific aims
Describe the methods used by SWIFT-Review to conduct topic modeling, categorization of studies, and priority ranking for relevance.

Present performance benchmarks for priority ranking based on a comparison of SWIFT-Review to manual review for 20 data sets of various size and complexity. Fifteen of the 20 data sets are public datasets that have been used to evaluate the performance of other text-mining software tools [6].

Present an example of how SWIFT-Review can be used to prepare a scoping report on an example topic (endocrine-disrupting chemicals; EDCs) selected because of the large size of its literature base and for its complexity in terms of number of chemicals, range of health effects, and types of evidence (human, animal, in vitro).
Results
Performance of prioritization algorithm
We report the WSS@95 scores obtained for each of the 20 datasets in Table
3
. Compared with the reported performance of other tools using the same datasets, the SWIFT-Review ranking procedure obtained the highest scores on 11 out of 15 of the public datasets [
6
]. Cohen's SVM classifier [
6
] achieved the highest scores on the remaining four datasets. In general, the priority ranking performance was better for the datasets from NIEHS and CAMARADES; the mean WSS@95 score was 48.8 % for the 15 previously published datasets and 76.6 % for the 5 new datasets introduced here. Figure
3
shows how the performance on each dataset changes as a function of the number of training items (assuming a balanced training set with equal number of positive and negative instances). In all cases, as expected, performance appears to be an increasing function of training set size. In addition, Fig.
4
shows the recall achieved on the 5 new datasets as a function of the total documents screened, after training the algorithm with a seed size of 50 included and 50 excluded documents.
Table 3
Summary of SWIFT performance ranking metrics
Cohen (2006) [6]

Matwin (2010) [28]

SWIFT-Review (25 trials)

WSS@95 [proportion of studies screened to achieve 95 % recall]

PFOA/PFOS and immunotoxicity

N/A

N/A

N/A

0.805 [0.145]

Bisphenol A (BPA) and obesity

N/A

N/A

N/A

0.752 [0.198]

Transgenerational inheritance of health effects

N/A

N/A

N/A

0.714 [0.236]

Fluoride and neurotoxicity in animal models

N/A

N/A

N/A

0.870 [0.080]

Neuropathic pain

N/A

N/A

N/A

0.691 [0.259]

SWIFT-Review mean

0.766 [0.184]

Skeletal muscle relaxants

0.000 [0.950]

0.265 [0.685]

0.374 [0.576]

0.556 [0.394]

Opioids

0.133 [0.817]

0.554 [0.396]

0.364 [0.586]

0.826 [0.124]

Antihistamines

0.000 [0.950]

0.149 [0.801]

0.236 [0.714]

0.137 [0.813]

ADHD

0.680 [0.270]

0.622 [0.328]

0.526 [0.424]

0.793 [0.157]

Triptans

0.034 [0.916]

0.274 [0.676]

0.346 [0.604]

0.412 [0.538]

Urinary incontinence

0.261 [0.689]

0.296 [0.654]

0.432 [0.518]

0.530 [0.420]

Ace inhibitors

0.566 [0.384]

0.523 [0.427]

0.733 [0.217]

0.801 [0.149]

Nonsteroidal anti-inflammatory

0.497 [0.453]

0.528 [0.422]

0.672 [0.278]

0.730 [0.220]

Beta blockers

0.284 [0.666]

0.367 [0.583]

0.465 [0.485]

0.428 [0.522]

Proton pump inhibitors

0.277 [0.773]

0.229 [0.721]

0.328 [0.622]

0.378 [0.572]

Estrogens

0.183 [0.767]

0.375 [0.575]

0.414 [0.536]

0.471 [0.479]

Statins

0.247 [0.803]

0.315 [0.635]

0.491 [0.459]

0.436 [0.514]

Calcium-channel blockers

0.122 [0.828]

0.234 [0.716]

0.430 [0.520]

0.448 [0.502]

Oral hypoglycemics

0.090 [0.860]

0.085 [0.865]

0.136 [0.814]

0.117 [0.833]

Atypical antipsychotics

0.141 [0.809]

0.206 [0.744]

0.170 [0.780]

0.251 [0.699]

Mean (Cohen benchmark)

0.234 [0.716]

0.335 [0.615]

0.408 [0.542]

0.488 [0.462]

SWIFT-Review grand mean

0.540 [0.410]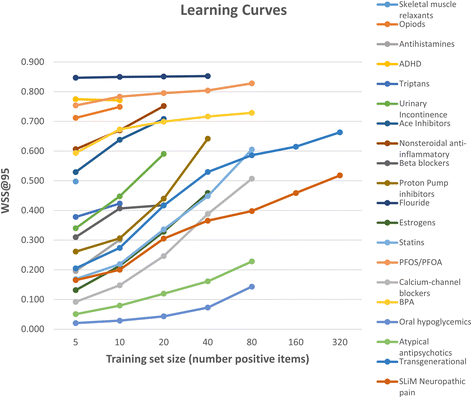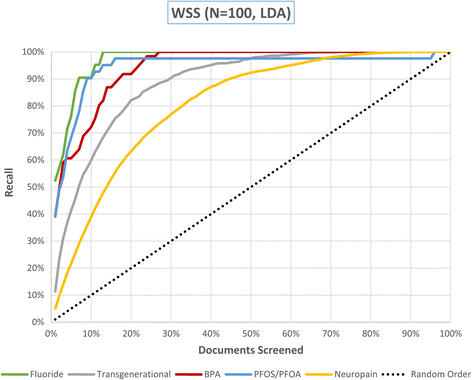 We also assessed the effects of three major feature types: MeSH terms, N-Grams, and topic model membership (Fig.
5
). The estimates were obtained by observing the effect of systematically removing those feature types and comparing the results to the original results obtained using all features. As shown in Fig.
5
, availability of MeSH annotations is not critical for success of the procedure. In fact, inclusion of MeSH annotations only improved performance by an increase of 1 % WSS@95 (on average) and actually harmed the performance for some individual tests. Similarly, the overall effect of including
n
-grams was also negligible when the other features were available. Topic modeling, on the other hand, provided an average increase of about 4.4 % WSS@95. To characterize the features and feature types that contributed maximally to each classifier, we surveyed the most highly weighted features for the four NIEHS datasets (Additional file
7
). In most cases, the highly weighted features appear to be sensible. For example, the features with the most highly negative weights (i.e., most indicative of the excluded class) for the bisphenol A (BPA) obesity dataset include several topics related to dental procedures. Many of the documents in this dataset were retrieved because BPA is commonly used in dental sealants, but these were excluded as not being relevant to the research question studied.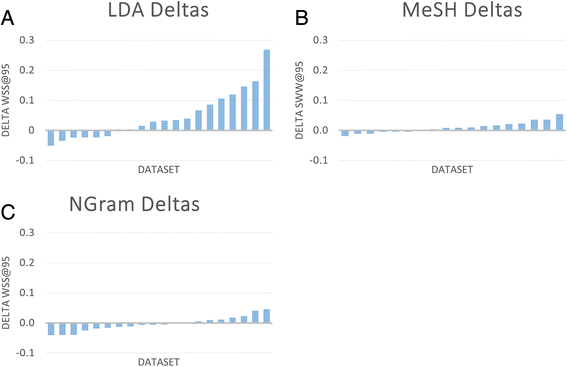 EDC case study: use of SWIFT-Review document tagging and annotation
We utilized SWIFT-Review's document tagging and annotation capabilities to perform a scoping exercise on a set of EDC chemicals; the study flow diagram for the analysis of 171 UNEP EDC chemicals is displayed in Fig.
6
. The initial PubMed search yielded 709,573 hits in total. By limiting the search to PubMed results from the last 10 years, the literature corpus was reduced to 264,588 records. This allowed us to focus on recent research trends. These citations were uploaded into SWIFT-Review, which was then used to filter out non-research articles (e.g., reviews or commentaries), reducing the size of the corpus to 221,898 documents (Fig.
6
).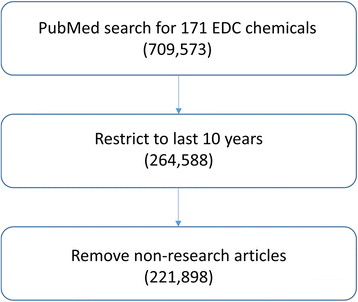 During the import, SWIFT-Review automatically annotated the uploaded documents using tags relevant to the environmental health sciences, including chemical exposure, evidence stream (human, animal, in vitro), and health outcome. These tags can then be used to interactively explore and "drill-down" to investigate specific aspects of the literature corpus (Figs.
7
and
8
), moving from a visualization of bodies of evidence by chemical, or health outcome to the actual studies reporting data. The document prioritization capabilities of SWIFT-Review can then be applied to specific areas of interest in the corpus (e.g., association of a particular EDC with a specific health outcome such as arsenic and neoplasms) providing users with strategies to conduct survey-level analyses of a topic and identify the number of potentially relevant studies for subsequent systematic review. The list of studies supporting each health outcome or evidence stream can be rapidly accessed by clicking on the interactive figure, and users can pull up the abstract and full study details for individual studies within the areas of interest.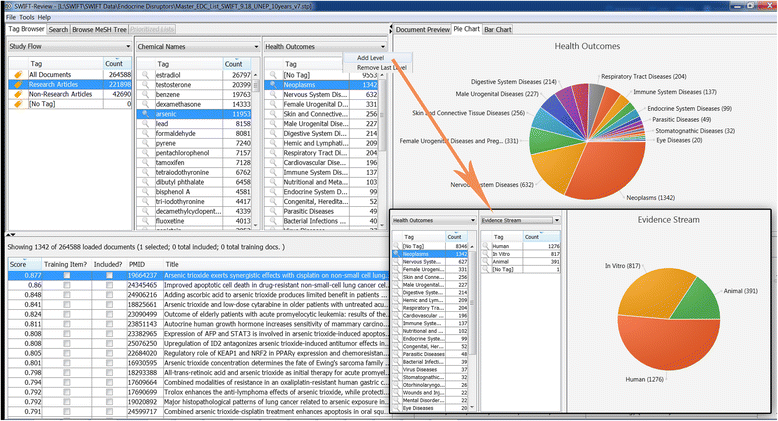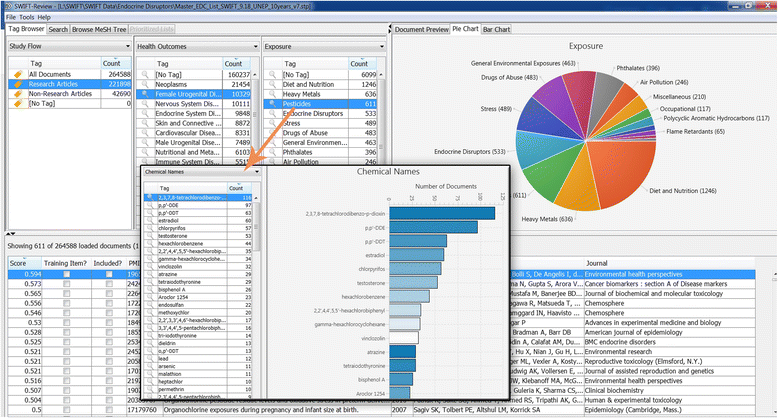 In addition, various visualizations (e.g., Figs.
9
and
10
) are provided which can be helpful during the processes of scoping and problem formulation in which one seeks to assess the current state of the science, identify questions for which the literature base is data rich or data poor, and discover interesting "pockets" of literature relevant to a particular research topic. LDA topic modeling can also be used during these endeavors to automatically identify potentially important "themes" in a bibliographic corpus because those themes are over-represented and to browse the documents within those topics. For example, Fig.
10
shows several of the subjects automatically identified in the EDC dataset. As shown in the figure, topics can be characterized using the set of automatically identified words with the highest conditional probability; in most cases, after cursory examination, these topics can then be assigned meaningful short names. For example, the topics shown here include analytical methods used to measure levels of EDCs (e.g., topic 23), measures of exposure (e.g., topic 31 on lead and arsenic or topic 1 on polycyclic aromatic hydrocarbons (PAHs)), and health outcome topic groupings (e.g., topic 26—breast and prostate cancer and topic 15—thyroid disease).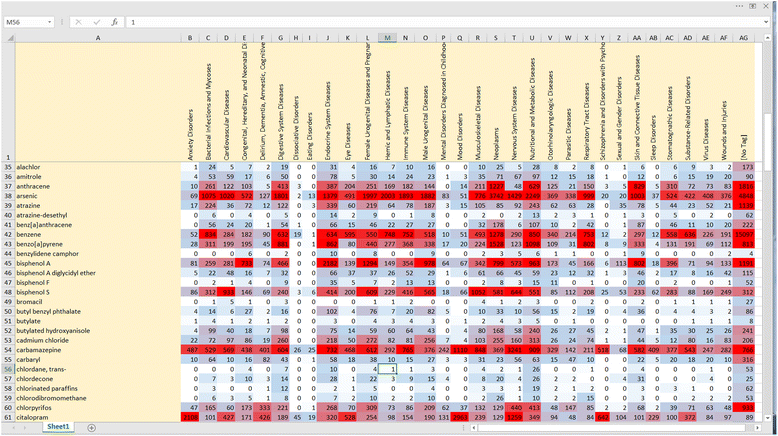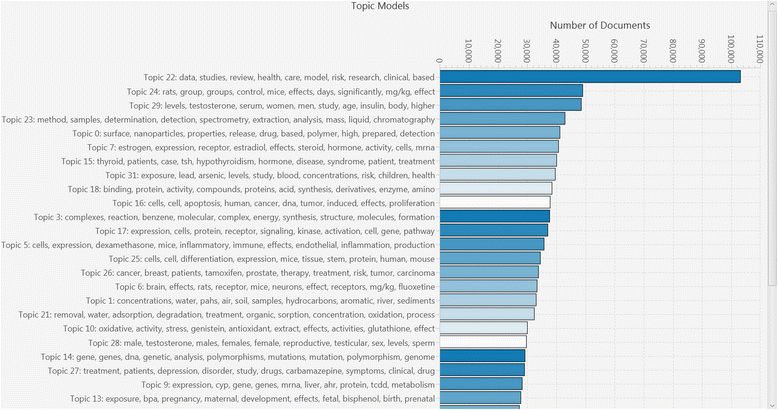 Discussion
Document prioritization
Here, we have tested automated document prioritization on 20 previously conducted systematic review datasets, and the results presented clearly suggest that using machine learning to triage documents for screening has the potential to save, on average, more than 50 % of the screening effort ordinarily required when using un-ordered document lists (Table 3). To the best of our knowledge, the performance benchmarking of SWIFT-Review for use in the screening phase of systematic review reported here is the most extensive conducted to date. Compared to other algorithms previously tested on 15 of the datasets, our procedure performs favorably and obtains the best WSS@95 scores on the majority of the datasets (11 out of 15). We have also introduced five new systematic review datasets (Additional files 1 and 2), which can be used, in the future, to benchmark further developments in the field. Compared to other datasets available for benchmarking, these five new datasets are much larger (range from 4479 to 48,638 studies) and more complex with respect to the type of study considered relevant (e.g., relevance is based on a specific study design for transgenerational and evidence from human, animal, and in vitro studies were considered relevant for BPA and PFOS/PFOA). One fundamental difference between the various datasets may be the search procedure used to obtain the initial corpus. For example, compared to some of the other datasets, the NIEHS literature searches may place more emphasis on recall over precision, potentially leading to more "low hanging fruit" for the classification algorithm to eliminate. Similarly, the observed performance on the transgenerational data was worse than performance on the more targeted topics such as the PFOS/PFOA and BPA datasets because of the lack of consistency in defining the concept of translational inheritance in the literature and the broad range of literature considered relevant, i.e., relevance was based on utilization of a certain study design with no restriction on type of exposure or health outcome (see protocol for the transgenerational inheritance systematic review for more detail [20]).
Although most of the data sets (18 of 20) used in the current analysis are based on PubMed searches, the ranking methodology available in SWIFT-Review is applicable to any set of scientific titles and abstracts, including those derived from non-PubMed bibliographic sources. The inclusion of PubMed-specific MeSH terms was found to result in only a minor improvement to ranking performance. In fact, in this study, the data set with the highest WSS@95 score was fluoride, one of the two datasets for which MeSH terms were unavailable.
In a recent related work [21], it was noted that LDA topic modeling resulted in performance inferior to simple alphanumeric features on a similar classification task. However, in that instance, topic models were used instead of alphanumeric features; here, we use topic models in addition to the bag of words model. We observed that adding LDA features increased the overall performance by an average of +4.4 % WSS@95. The two datasets that benefitted most from LDA were the two datasets with the smallest number of positive instances available for training: skeletal muscle relaxants and opioids. For these two datasets, adding LDA features increased the performance by +16.4 % and +26.8 % WSS@95, respectively. Since LDA is an unsupervised algorithm, it is expected that it may confer the largest benefit when the total number of labeled documents is small, but when many unlabeled documents are available. For these reasons, the prioritization module available in SWIFT-Review automatically computes and includes these features.
It should be noted that the testing procedure used to compare ranking performance to previous work assumes that one half of the total available data is available for training. While this may be obtainable in practice for scenarios where the task is to update an existing review, for new reviews, the number of seed documents will most likely be much smaller. As shown in Fig. 3, ranking performance is an increasing function of training set size. On the other hand, we have observed excellent performance using our models in several cases even when the training sets are very small.
Finally, we also note that our prioritization method is very fast, generally requiring, at most, only a few minutes for training. The most time-consuming parts are loading the data and computing the topic model, but these are actually performed only once when the project is first created.
Document tagging
The tagging and annotation capabilities of SWIFT-Review can be useful during the activities of scoping and problem formulation. Together, they can be employed to more quickly assess the extent of available evidence, prioritize health outcomes and chemical exposures for systematic review, and understand the degree of evidence integration that may be required. In addition, the resulting visualizations and reports can help to identify topics that have been extensively studied as well as emerging areas of research. Topic modeling results can also be used to automatically uncover important themes found in a literature corpus and can help to identify "seed studies" for the purpose of training a machine-learning model that priority ranks relevant studies in focused areas.
Additional work is required to validate the accuracy of the tagging against manual review. We envision that refinements will be made to the current search filters used to classify health outcomes and evidence streams to improve accuracy based on results of validation work. However, we have presented a realistic case study for the use of SWIFT-Review for problem formulation and found that the tagging capabilities of SWIFT Review are useful to understand the relative data rich and data poor aspects of a topic of interest, for example the most studied health outcomes for a particular chemical or the relative proportion of evidence that is animal-based. Also, by interactively and iteratively exploring, tagging, and filtering the corpus, it is possible to use SWIFT-Review to efficiently enrich the corpus and bring promising research topics into clearer focus. Current practice at the NTP is to use the tagging features during problem formulation (or "scoping") but to rely on manual tagging when implementing the formal systematic review. With respect to creating automatic search strategies for Tox21 and other chemicals, we find that automation greatly reduces the amount of time required to create draft search strategies (especially for topics that involve many chemicals) but that manual review of the automated search strategy is recommended. For example, by interactively and iteratively exploring, tagging, and filtering the corpus, it is possible to use SWIFT-Review to efficiently enrich the corpus and bring promising research topics into clearer focus.
Limitations and future developments
One barrier for widespread uptake of priority-ranking methods like SWIFT-Review is the current inability to provide users with feedback on when to stop screening to achieve a desired percentage recall. This is an area we are actively investigating. Like related approaches [22–24], our method of detecting this stopping threshold may involve some amount of random sampling, a tactic which appears to work well, but will come at a cost in terms of WSS. Another barrier is that seed studies need to be identified to train the models, which can present an additional human screening burden. To address these issues, we and others [23, 25–27] are moving toward active learning and models that can be initialized without seed studies and then continuously updated during the screening process. Under this active learning framework, it also becomes more natural to implement sampling methods that can utilize feedback from the user in order to estimate at what point they can stop screening with confidence that a desired level of recall has been achieved for a particular data set. With some additional modifications, the prioritization method we have presented here can be modified to accommodate these improvements.
The public version of SWIFT-Review currently works with PubMed records only. Future developments will include the ability to upload non-PubMed records directly from an EndNote library, flat file, etc., as well as options to import full-text documents and enhancements to the automated tagging functions such as support for gene names, new chemical lists, MeSH-on-demand, etc. In addition, in order to extend health outcome tagging to documents originating from alternate bibliographic databases as well as abstracts that have not yet been indexed by MeSH, we are currently preparing search strategies that can be used to tag documents according to the following broad categories of health outcome: body weight/growth, cancer, cardiovascular, dermatological, developmental, endocrine, gastrointestinal, hematological, immunological, hepatic, renal, metabolic, musculoskeletal, neurological, sensory, reproductive, and respiratory. These features will appear in future updates of the software.
Conclusions
Text-mining and machine learning programs such as SWIFT-Review can be valuable tools to reduce the human screening burden and assist in problem formulation. The freely available SWIFT-Review software is currently being used by researchers in government, academic, non-profit, and for-profit organizations and is under ongoing development, with several new features planned.
Abbreviations
ADHD:

attention deficit hyperactivity disorder
BPA:

bisphenol-A
CAMARADES:

Collaborative Approach to Meta-Analysis and Review of Animal Data from Experimental Studies
CASRN:

Chemical Abstract Services Registry Number
EDC:

endocrine-disrupting chemical
EPA:

Environmental Protection Agency
FDA:

Food and Drug Administration
FN:

false negative
LBFGS:

limited memory Broyden-Fletcher-Goldfarb-Shanno
LDA:

latent Dirichlet allocation
MeSH:

Medical Subject Heading
NCATS:

National Center for Advancing Translational Sciences
NCBI:

National Center for Biotechnology Information
NIEHS:

National Institute of Environmental Health Sciences
NIH:

National Institutes of Health
NTP:

National Toxicology Program
OHAT:

Office of Health Assessment and Translation
PAH:

polycyclic aromatic hydrocarbon
PFOA:

perfluorooctanoic Acid
PFOS:

perfluoroocane sulfonate
PMID:

PubMed ID
SWIFT:

Sciome Workbench for Interactive computer-Facilitated Text-mining
TF-IDF:

term frequency-inverse document frequency
TN:

true negative
TP:

true positive
UNEP:

United Nations Environment Programme
WHO:

World Health Organization
WSS:

Work Saved over Sampling
Declarations
Acknowledgements
We gratefully acknowledge the contributions of Nigel Walker and Grace Kissling for reviewing a draft version of the manuscript.
Funding
This research was supported by SciOme, LLC and the National Institute of Environmental Health Sciences (NIEHS). SciOme provides technical support for the National Toxicology Program (NTP) but do not represent NIEHS, NTP, or the official positions of any Federal agency. Although the software is freely available, SciOme authors could benefit financially if users seek SciOme's support in utilizing SWIFT-Review software on projects.
Availability of data and materials
Project Name: SWIFT-Review

Project Home Page: http://swift.sciome.com/

Operating System: Platform Independent

Programming Language: Java

Other Requirements: at least 8GB RAM

License: The software is free for public use. Installation instructions and licensing details are available at the project home page.
Authors' contributions
BEH, RRS, and KT conceived and designed the experiments. BEH, JP, KM, AT, MS, and RRS designed and implemented the software. SH, KEP, VW, AAR, MM, and KT gave search strategies and workflow suggestions. KT, AAR, VW, SH, KEP, and MM provided experimental data. BEH, KM, JP, DM, and RRS analyzed the data. BEH, JP, KM, AT, DM, SH, KEP, VW, AAR, MM, RRS, and KT wrote and revised the manuscript. All authors read and approved the final manuscript.
Competing interests
The authors declare that they have no competing interests.
Consent for publication
Not applicable.
Ethics approval and consent to participate
Not applicable.
Open AccessThis article is distributed under the terms of the Creative Commons Attribution 4.0 International License (http://creativecommons.org/licenses/by/4.0/), which permits unrestricted use, distribution, and reproduction in any medium, provided you give appropriate credit to the original author(s) and the source, provide a link to the Creative Commons license, and indicate if changes were made. The Creative Commons Public Domain Dedication waiver (http://creativecommons.org/publicdomain/zero/1.0/) applies to the data made available in this article, unless otherwise stated.
Authors' Affiliations
(1)
SciOme LLC, Research Triangle Park, NC, USA
(2)
Office of Scientific Information Management, National Institute of Environmental Health Sciences, National Institutes of Health, Department of Health and Human Services, Research Triangle Park, USA
(3)
Division of the National Toxicology Program, National Institute of Environmental Health Sciences, National Institutes of Health, Department of Health and Human Services, Research Triangle Park, USA
(4)
Centre for Clinical Brain Sciences, University of Edinburgh, Scotland, UK