Protocol
Open Access
Open Peer Review
This article has Open Peer Review reports available.
Association between nutritional status and the immune response in HIV + patients under HAART: protocol for a systematic review
Systematic Reviews
2014
3:9
Received: 13 November 2013
Accepted: 3 February 2014
Published: 10 February 2014
Abstract
Background
Over 850 million people worldwide and 200 million adults in Sub-Saharan Africa suffer from malnutrition. Countries most affected by HIV are also stricken by elevated rates of food insecurity and malnutrition. HIV infection and insufficient nutritional intake are part of a vicious cycle that contributes to immunodeficiency and negative health outcomes. However, the effect of the overlap between HIV infection and undernutrition on the immune response following antiretroviral initiation remains unclear. A possible explanation could be the lack of consensus concerning the definition and assessment of nutritional status. Our objectives are to investigate the existence of an association between undernutrition and immune response at antiretroviral treatment initiation and the following year in low- and middle-income countries where malnutrition is most prevalent.
Methods/design
Our systematic review will identify studies originating from low- and middle-income countries (LMICs) published from 1996 onwards, through searches in MEDLINE (PubMed interface), EMBASE (OVID interface), Cochrane Central (OVID interface) and grey literature. No language restrictions will be applied. We will seek out studies of any design investigating the association between the nutritional status (for example, undernourished versus well nourished) and the immune response, either in terms of CD4 count or immune failure, in seropositive patients initiating antiretroviral therapy or in their first year of treatment. Two reviewers will independently screen articles, extract data and assess scientific quality using standardized forms and published quality assessment tools tailored for each study design. Where feasible, pooled measures of association will be obtained through meta-analyses. Results will be reported according to the Preferred Reporting Items for Systematic Reviews and Meta-Analyses (PRISMA) Statement. This protocol has been registered in the PROSPERO database (registration number: CRD42014005961).
Conclusion
Undernutrition and weight loss are prevalent amongst highly active antiretroviral therapy (HAART)-treated patients in LMICs and contribute to excess early mortality. A possible intermediate pathway could be poor immune reconstitution secondary to deficient nutritional status. In the face of limited access to second line treatments, raising HIV resistance and cut backs to HIV programs, it is crucial to identify the factors associated with suboptimal response and therapeutic failure in order to better customize the care strategies employed in LMICs.
Keywords
MalnutritionCD4HIVHighly active antiretroviral therapyLow- and middle-income countriesSystematic reviewProtocol
Background
Malnutrition is a persisting public health issue affecting over 850 million people worldwide and 200 million adults in Sub-Saharan Africa (SSA) [1, 2]. The term 'malnutrition' is often used indifferently to refer both to undernutrition and overnutrition. In undernutrition, macro- and/or micronutrient supply are continuously below minimum dietary requirements, which leads to changes in body composition and diminished function [3, 4]. For the purpose of this systematic review, we will focus on undernutrition as a state of malnutrition.
Before the HIV epidemics, malnutrition was the first cause of immunosuppression worldwide [5]. Micro- and macronutrient deficiencies weaken the immune system through atrophy of the thymus and lymphoid tissue, alteration of T cell subsets, decrease of T cell counts and cytokine response [6, 7]. In protein energy malnutrition (PEM), cell-mediated and innate immunity [6, 8] are particularly lessened, thereby increasing the risk of viral infection (including HIV) and disease progression [9–11]. Furthermore, persistent malnutrition leads to an inflammatory state through decreased leptin levels [12] and altered intestinal mucosa permeability which further augments the organism's vulnerability to infection [5].
Countries where food insecurity and malnutrition are common are also stricken by high HIV incidence and prevalence rates [13, 14]. The effect of overlap between HIV infection and undernutrition in low- and middle-income countries (LMICs) on immunological function remains unclear [2, 14, 15]. HIV is a cause of nutritional deficiencies through its effect on nutrient absorption - for example, HIV-mediated inflammation and induced mucosal immune cell damage in the gastrointestinal tract leads to diarrhea and malabsorption, decreased intake - for example, odynophagia induced by esophageal candidiasis (an opportunistic infection (OI)) - limits the capacity to feed oneself. Finally, HIV itself or associated OI can result in increased energy expenditure [16–18]. As such, malnutrition and HIV coexist in a vicious perpetuating cycle.
Increased availability of highly active antiretroviral therapy (HAART) in LMICs has led to some improvement of the nutritional status of patients [19–22]. However, for certain individuals, undernutrition and weight loss persist despite therapy [17, 23, 24]. Just like with HIV, HAART and malnutrition contribute to a deadly cycle. Highly active antiretroviral therapy (HAART) leads to increased requirements for macro- and micronutrients, high metabolic demands [25] and low appetite [26] which perpetuate undernutrition [27]. Simultaneously, malnutrition exacerbates side effects [28–31], alters drug pharmacokinetics [32], and impinges on adherence [33] thereby limiting the beneficial effects of the therapy. Like in ART-naive patients, suboptimal nutritional status amongst those treated is associated with disease progression and early death [34–41]. As such, excess early mortality in patients initiating treatment in LMICs compared to high-income countries has been reported [42].
Despite theoretical and experimental evidence linking malnutrition and altered immune function, there exists no consensus concerning the impact of malnutrition on the immune response in HIV patients receiving tri-therapy. Numerous nutritional interventions have been attempted in seropositive populations under antiretroviral treatment (ART) without convincing clinical results. As such, a recent systematic review investigating nutritional interventions and clinical outcomes in high-, middle- and low-income countries failed to show any advantages in terms of CD4 or weight gain in those receiving food supplements [13]. In populations from LMICs, research has failed to demonstrate an association between lower CD4 counts and markers of undernutrition amongst newly diagnosed seropositive individuals compared to seronegative controls [43, 44]. In populations under combined antiretroviral treatment (cART), evidence so far appears contradictory. As underlined by Soeters (2008), a possible explanation for this absence of consensus could be the lack of homogeneity in the definition and conceptualization of malnutrition [4]. Various undernutrition syndromes have been grouped under the umbrella of malnutrition - protein-energy malnutrition (PEM), cachexia, sarcopenia, marasmus, kwashiorkor - each being the result of different pathophysiological processes and each leading to distinct morphological and biochemical modifications [4, 45]. Furthermore, there exists no unique indicator to capture malnutrition. As such, prevalence of malnutrition amongst HIV patients varies according to the instrument used [46]. In field studies, body composition is often evaluated using either body mass index (BMI), mid-upper arm circumference (MUAC), skinfolds (SK), or bioelectrical impedance (BIA); each method capturing a different aspect of body composition. The simplicity and cheapness of anthropometric techniques has made them popular in nutritional studies, independently of their appropriateness [47]. Some authors indicate that nutritional assessment should also include analysis of biochemical nutritional parameters such as albumin and C-reactive protein (CRP) to account for inflammation in the establishment and maintenance of malnutrition [4, 48].
Further evidence is required to clarify the association between nutritional status and immunological outcomes. For the purpose of this systematic review, we will use the operationalized definition of malnutrition proposed by Soeters (2008). In his model, Soeters attempts to regroup different pathophysiological explanations and consequences of malnutrition into one conceptual framework. This model feeds onto the different definitions that have been proposed to describe malnutrition. We will focus on the clinical assessment of body composition and inflammatory activity [4]. For the former, indicators investigated will include BMI, MUAC, SK, and BIA (as a measure of body cell mass (BCM)). As for the latter, markers investigated will include albumin, hemoglobin and C-reactive protein (CRP). These measures will be contrasted with one measure of function, namely the immune function. With this systematic review we hope to provide clarification concerning the cross-sectional and longitudinal associations between undernutrition and immune response in seropositive patients receiving ART in LMICs.
Objectives and research questions
This systematic review is guided by the following research hypotheses: a) macro-nutritional deficiencies in HIV + individuals, either at time of treatment initiation or in the first year of treatment, will lead to a defective immune response to HAART independently of disease stage, and b) the existence and strength of the associations observed between malnutrition and immune reconstitution following ART initiation will vary with the choice of nutritional marker.
Our aim is to investigate the existence of an association between undernutrition and the immune response following ART initiation in LMICs. To do so, we will identify, assess and synthesize the literature from LMICs a) to evaluate the cross-sectional relationship between malnutrition and immune markers at treatment initiation; b) to investigate the association between nutritional indicators at time of treatment initiation and the prospective immune response in the year after ART initiation and, c) to assess longitudinal co-variation between nutritional and immune trajectories in patients under HAART for less than a year; and d) to establish whether the associations highlighted in a), b), and c) vary according to individual and/or subgroups of nutritional indicators.
Methods
The guidelines proposed in the Preferred Reporting Items for Systematic Reviews and Meta-Analyses (PRISMA) statement will be used as a template for the development and execution of this review (Figure
1
) [
49
]. The methodological choices described in this protocol have been inspired by previously published work from members of our group [
50
]. This systematic review protocol was registered with the PROSPERO database (registration number: CRD42014005961).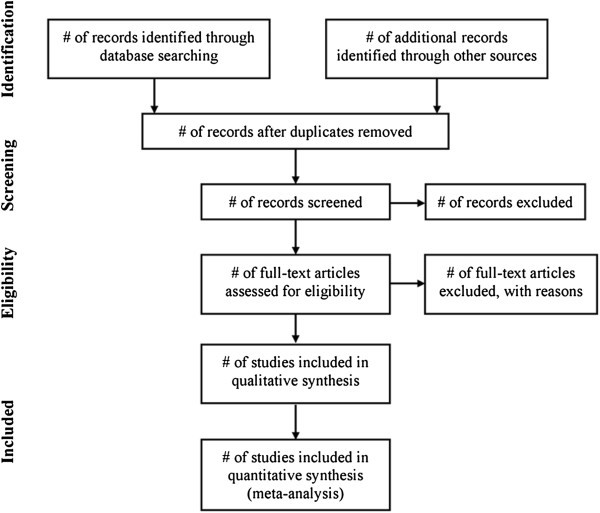 Discussion
Although increased availability of first line HAART in LMICs has significantly reduced mortality and morbidity amongst people living with HIV/AIDS (PLA), undernutrition and weight loss persist [17, 23, 24]. Both act as strong predictors of excessive early mortality [35, 37, 40, 41]; possibly through poor immune reconstitution secondary to deficient nutritional status in PLA. With the rapid scale-up of ART programs, concerns have also been growing about the sustainability and effectiveness of such programs [14]. Currently, funds injected into HIV programs are diminishing and access to second line regimens in LMICs continues to be restricted. There is thus a growing need to optimize therapeutic success of first line ART, delay the need for therapeutic switch, and limit rates of resistance, which are on the rise, in those regions [66].
With this systematic review we hope to clarify the association between malnutrition and immunological response to HAART in HIV + population. More specifically, we wish to establish whether ART drug treatment is suboptimal in the undernourished. Our clinical goals are to: 1) facilitate the identification of patients at greater risk of inadequate immune response; and 2) help in differentiating between malnutrition in PLA and more advanced disease (that is greater inflammatory process). We believe our results will contribute to informing physicians and policy makers in settings where care strategies have to be optimized to limit therapeutic failure by shedding some light on the processes that contribute to suboptimal therapeutic response. We are aware that the studies we will uncover will present different limitations due to the complexity of the association of interest and the challenges associated with nutritional research in vulnerable groups. These limitations, as well as bias and precision of estimates, will be discussed in length in our review giving special attention to the possible publication bias of studies conducted in settings with limited resources and in non-English speaking populations by non-English speaking researchers. As suggested by the PRISMA statement, we wish this protocol to be part of an iterative process that respects accepted and transparent reporting methods [49].
Author's information
MS is a MD/PhD candidate currently completing her dissertation on the subject of nutrition in HIV research at Montreal University.
Abbreviations
ART:

antiretroviral
BCM:

body cell mass
BIA:

bioelectrical impedance
BMI:

body mass index
cART:

combined antiretroviral treatment
CBAs:

controlled before-after studies
CCRBT:

Cochrane Collaboration's Risk of Bias Tool
CRP:

C-reactive protein
CRTs:

cluster-randomized trials
ECW:

extracellular water
EPHPP:

Effective Public Health Practice Project
EPOC:

Cochrane Effective Practice and Organization of Practice
FFM:

fat-free mass
HAART:

highly active antiretroviral
HIV:

human immunodeficiency virus
ICW:

intracellular water
ITSs:

interrupted time series studies
LMIC:

low- and middle-income countries
MUAC:

mid-upper arm circumference
NICE:

National Institute for Health and Clinical Excellence
OI:

opportunistic infection
PEM:

protein energy malnutrition
PLA:

people living with HIV/AIDS
PRISMA:

Preferred Reporting Items for Systematic Reviews and Meta-Analyses
RCT:

randomized controlled trial
SK:

skinfold
SSA:

Sub-Saharan Africa
STROBE:

Strengthening the Reporting of Observational Studies in Epidemiology.
Declarations
Acknowledgments
MS is a recipient of the Canadian Institutes for Health Research (CIHR) MD/PhD bursary. EVL is a recipient of a CIHR Frederick Banting and Charles Best Canada Graduate Scholarship. JA is a recipient of a CIHR Postdoctoral Fellowship.
Authors' Affiliations
(1)
Research Center of the Montreal University Hospital Center (CRCHUM), Montreal, Canada
(2)
School of Public Health, Montreal University, Montreal, Canada
(3)
Institute of Tropical Medicine, Antwerp, Belgium
(4)
Documentation, Montreal University Hospital Center (CHUM), Montreal, Canada
(5)
Montreal University Public Health Research Institute (IRSPUM), Montreal, Canada
(6)
Documentation Center, Montreal University Hospital Centre (CHUM), Saint-Luc Hospital, Montreal, Canada
Copyright
© Sicotte et al.; licensee BioMed Central Ltd. 2014
This article is published under license to BioMed Central Ltd. This is an Open Access article distributed under the terms of the Creative Commons Attribution License (http://creativecommons.org/licenses/by/2.0), which permits unrestricted use, distribution, and reproduction in any medium, provided the original work is properly credited. The Creative Commons Public Domain Dedication waiver (http://creativecommons.org/publicdomain/zero/1.0/) applies to the data made available in this article, unless otherwise stated.